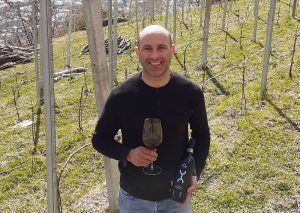 The Bana family has been farming vineyards and orchards in the Valtellina region of northern Italy for three generations. Prior to 2007, the family would sell their top quality Nebbiolo grapes to local winemakers.
In 2007, Davide Bana left his career as a Swiss banker to follow his true passion and calling, farming his family's land. As Davide will tell you, his career as a Swiss banker was feeding his bank account and his family but not his soul. He knew his family's land was cultivating truly extraordinary Nebbiolo and his intuition told him they could craft incredible Nebbiolo of their own. He built a state of the art winemaking facility into the hillside of his family's estate and after 6 years of grueling work in the vineyard and winery, he finally felt his wines were ready for the commercial market,
The views from his vineyards are stunning but the land is unforgiving and quite difficult to farm. Everything here is done by hand, from ploughing to pruning to harvest. The ending result are two limited production Nebbiolo's that are, simply, the most exquisite examples of the grape variety from Valtellina.