Côtes du Rhône Red
Red Wine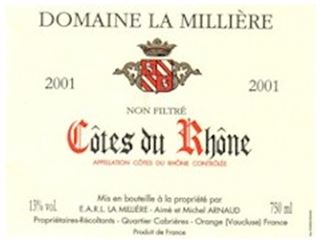 Grapes :
85% Grenache (100 year old vineyard)
10% Syrah  (50 year old vineyard)
5% Mourvèdre
Terroir :
Clay sandy soil, dominated by stones. Terraced vineyard, situated on a bench named "Le Grès."
Vinification :
Traditional. Manually harvested, hand-selected grapes and individually selected berries, destemmed. 10-15 fermentation and maceration days. Aged in vat. Bottled one year after harvest date.
Extent of Vineyard :
8 ha (split between Côtes du Rhône and the Côtes du Rhône Villages)